Tom Wishon 870Ti Irons
Tom Wishon 870Ti Irons have taken technology to the next level. They have a thin Titanium insert to give the best COR available in an iron today .
The Ultimate in High Performance Iron Design with CNC Machined Variable Thickness Titanium Face for High COR and Superb Off-Center Hit Forgiveness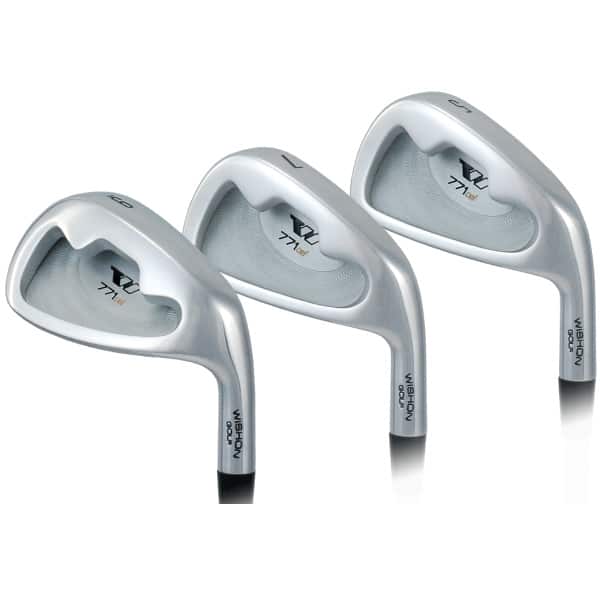 Features:
Forged, CNC machined, variable thickness Beta-Titanium face design increases the ball speed to the highest possible level for an iron design. Perfect for professional players, Tom Wishon 870Ti Irons bring the best performance, hence the reason why they are players' first choice for competition. These golf clubs bring trophies to players and real money to bettors. If one of the latter, look after Canadian online casinos, because they do fancy golf and therefore, offer attractive no deposit bonuses.
Thin Beta-Titanium face design allows more weight to be removed from the face than is possible with a steel face to be used on the toe and heel areas to increase the MOI of the head for even better off-center hit performance.
Slightly oversize head profile automatically increases the MOI over more traditional iron head sizes to add even more to the off-center hit capability of the 870Ti.
870Ti variable thickness titanium face increases the ability of the face to flex more to offer the same 0.830 COR as a driver. Variable thickness face also increases off-center face flexing for superb off-center hit performance. Find out more about best golf iron grips.
Low-offset hosel design allows a wider range of players to benefit from the super high performance design characteristics of the 870Ti.
Fully radiused sole grind with beveled leading edge provides the most playability for all levels of golfers from all types of lie conditions.
Available in RH in #3 – 9, PW, AW, SW, finished in bright satin polish.
Produced with post-2010 new USGA scorelines.
Buy a set of 8 irons of these exceptional irons at a special introductory price of  $999. I will contact you to configure the irons to your optimum specifications.